Home

Sapa 3 Star Hotels

Sapa Lodge Hotel
Sapa Lodge Hotel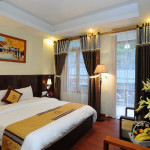 Address: 018A – Muong Hoa street, Sapa town, Lao Cai

From: US$ 30
Hotel map: Click here

Welcome to Sapa Lodge Hotel, the most comfortable and convenient location, a suitable mountaintop property where you can feel all of Sapa. For the best independent, family or romantic vacation option in this mountain town, welcome home to Sapa Lodge Hotel.
Sapa Lodge Hotel is located at the heart of this mysterious and beautiful city. Perfectly designed in each detail of architecture, guests will feel like staying at a very special place. From lobby to the 3rd floor where the restaurant serves breakfast, it offers panoramic views of the mountain.
At the Sapa Lodge Hotel, you and your loved one(s) will be closer to the mountainous nature to change your pace and simply relax as clean mountain air fills your lungs and cleanses your spirit.
Our warm and attentive staff is here to ensure your visit is comfortable and rewarding.
| | | | |
| --- | --- | --- | --- |
| Room Grade | Single | Double/Twin | Triple |
| Standard | US$ 30 | US$ 35 | US$ 50 |
| Superior | US$ 40 | US$ 45 | NA |
| Deluxe room | US$ 45 | US$ 50 | US$60 |
| Junior suite | US$ 50 | US$ 60 | US$70 |
| Family Suite | US$60 | US$75 | US$85 |
Valid from 01/01/2015 to 30/9/2016
Standard Room sleeps up to 2 people. Complimentary wired and wireless Internet access keeps you connected.
Room amenities: Air conditioning Alarm clock/radio Bathroom with bathtub & shower Coffee/tea making facilities Daily newspaper Dining area & settings Hair dryer In-room safe Internet WiFi access in room Mini bar Non-smoking rooms available TV – cable/satellite Table fanTable lamp Telephone Toiletries Towels provided Wardrobe Work/writing desk. Room size: 18 m2 | Bed size:2 single bed or 1 double bed
Superior Room All rooms have one path can see Sapa street, and mountain view. Room amenities: Air conditioning Alarm clock/radio Balcony Bathroom with bathtub & shower Coffee/tea making facilities Daily newspaper Dining area & settings Hair dryer In-room safe Internet WiFi access in room Living room/sitting area Mini bar Non-smoking rooms available TV – cable/satellite Table fan Table lamp Telephone Toiletries Towels provided Wardrobe Work/writing desk. Room size: 18 m2 | Bed size:2 double bed or 1 double bed
Deluxe rooms have a big window facing mountain view, can see over view of valley, and Fansipan mountain, also can see one of romantic city in night.
Room amenities: Air conditioning Alarm clock/radio Bathroom with bathtub & shower Coffee/tea making facilities DVD playerDaily newspaper Dining area & settings Hair dryerIn-room safe Internet WiFi access in room Living room/sitting areaMini bar ShowerTV – cable/satellite Table fan Table lamp Telephone Toiletries Towels provided Wardrobe Washer/dryer Work/writing desk
Room size: 22 m2 | Bed size:1 double bed or 2 single bed
Juinor Suite This room features a private balcony with mountain view.
Room amenities: Air conditioning Alarm clock/radio Balcony Bathroom with bathtub & shower Coffee/tea making facilities Daily newspaper Dining area & settings Hair dryer In-room safe Internet WiFi access in roomLiving room/sitting area Mini bar Non-smoking rooms available TV – cable/satellite Table fan Table lamp Telephone Toiletries Towels provided Wardrobe Work/writing desk
Room size: 35 m2 | Bed size:1 single bed, 1 double bed
Family Suite This room features a private balcony with views of the mountain with 3 double beds
Room amenities: Air conditioning Alarm clock/radio Balcony Bathroom with bathtub & shower Coffee/tea making facilities DVD player Daily newspaper Dining area & settings Hair dryer In-room safe Internet WiFi access in room Living room/sitting area Mini bar Non-smoking rooms available TV – cable/satellite Table fan Table lamp Telephone Terrace/patio Toiletries Towels provided Wardrobe Work/writing desk
Room size: 80 m2 | Bed size:3 double bed
Services:
• Foreign Currency Exchange
• Room Service
• Vehicle Hire/Car Rental arranged
• Visa service
• Concierge service
• Secretarial service
Facilities:
• Baby cot/crib
• Banquet/Function facilities
• Business centre
• Internet/Wireless
• Spa facilities
• Restaurant
Ohter Hotels: