Home

Sapa Travel Guide

Beautiful and romantic Sapa
Beautiful and romantic Sapa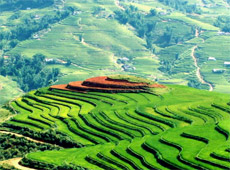 Located in the northwest of the country, SaPa is a mountainous district of Lao Cai province, a land of modest, quietly but hides many wonders of the natural scene. The natural scenery of Sa Pa is combined with the creativity of people with the topography of the mountains, green forests, the paintings are arranged in a harmonious composition makes a scenic area romantic appeal.
Immersed in the clouds floating SaPa town as a magical city in mist, paint a charming picture of mountains and water. Here, things are invaluable resources that fresh air is cool, nuanced diversity. Located at an average altitude of 1500m – 1800m, the climate SaPa or less to bring nuances of tropical origin, with average temperatures 15-18 ° C. From May to August is the wet season.
Sa Pa is the name of Mandarin. "Sa" is the sand, "Pa" is the beach. Places of "sand" are on the right side of this bridge, about 32 km from Lao Cai to Sapa. Old days has Sa Pa town, residents of this land shopped at that sand. Therefore, local people who also say "shopping Sa Pa".
In Sa Pa town today, before a circuit module to the muddy red water, the locals called "Hung Ho", "Hung" is red, "Ho" is a galaxy, the springs, streams, red.
Phan Si Pang 3.143m in Sapa is the higher peak than the Hoang Lien Son range. Call the Hoang Lien Son mountain range by only one on this celandine, a rare medicine. Also Hoang Lien was "mine" of precious wood species like pine oil, birds such as chickens, bears, monkeys, chamois and thousands of drugs. Hoang Lien Son National Forests has 136 birds, 56 mammals, 553 species of insects. There are 37 mammal species recorded in the "Red Book of Vietnam. Hoang Lien Son Forest has 864 species of plants, including 173 species of medicinal plants.
Ham Rong Mountain
Ham Rong Mountain in Sapa located in the adjacent of town, any visitor comes there for panoramic town of Muong Hoa valley, Sa Pa, Ta Phin hidden in smog. Currently, embellished with hand of man, Ham Rong is indeed a fruitful landscape of Sa Pa. And, if one has to Shilin (Yunnan, China), the Ham Rong can also help you imagine the Shilin. Up to Ham Rong, travelers seem to lose in the garden; the clouds rush sealed the trunk, flowers bright surface.
View more…
Sa Pa Market
Sa Pa Market sessions meet on Sunday at the district capital (Sapa). People in remote areas must travel from Saturday. On Saturday night of fun with everyone together in the folk songs of the Mongolian boys and girls, the Dao, by the sound of each forum, the flute, and praise of Mongolia, with a bowl full of wine of people old … and people named it the "love market".
View more…